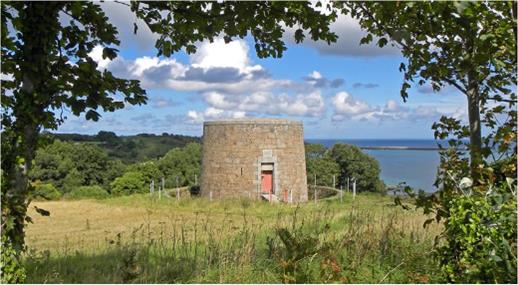 Sunday 9th September 2018 – Victoria Tower, St Martin – 10:30-13.00
From Jersey Conservation Volunteers
Well hasn't it been an amazing summer? However, the signs of autumn are becoming apparent, sloes, blackberries and of course the Jersey Conservation Volunteers!
The details The first task of the season will focus primarily on sycamore control. Sycamore Acer pseudoplatanus is a deciduous broadleaf tree native to central, eastern and southern Europe. It was introduced to the British Isles and is now a naturalised species.
While sycamore trees do have a value to wildlife, they are so successful that they have a tendency to take over. The purpose of this task is to control the abundance of sycamore at the site by cutting back and, where possible, uprooting young self-seeded saplings.
If you have any questions, or if you wish to be added to the Jersey Conservation Volunteers email list, please contact either Julia Meldrum (tel: 441600; j.meldrum@gov.je) or Jon Parkes (tel: 483193; jon.parkes@nationaltrust.je).
The site  We will meet in the car park at the end of Le Mont Mallet Jersey Phone Book map Map 11 MM15 – Google maps here
Parking Parking at the site is very limited but further on road parking is available along La Rue de La Pouclee et des Quatre Chemins. Please also consider car sharing or cycling.
The task We will be managing the sycamore woodland by cutting back older trees and uprooting saplings.
Meet at 10.20 promptly for a 10.30 start. We will be finished work by 12.30 for well-earned refreshments.
Tools needed Tools will be provided but if you have a pair of gardening gloves, a spade and cutting tools (e.g. pruning saw, loppers, secateurs) it would be helpful if you could bring them along with you.
Clothing needed Good thick gloves (though we can supply a pair if you don't have them), wellies or sturdy boots, (it shouldn't be muddy but the vegetation may well be wet it and it may be rough underfoot) and common sense clothes to cope with the elements, we go ahead whatever the weather!
Children All are welcome, young or old. Children under 16 must be supervised by a parent or guardian during the task.
Refreshments Kim the Kake has spent all summer baking for us (well perhaps not) but she will thankfully be on hand at the end of the task to dish out hot drinks and her scrumptious homemade cakes.